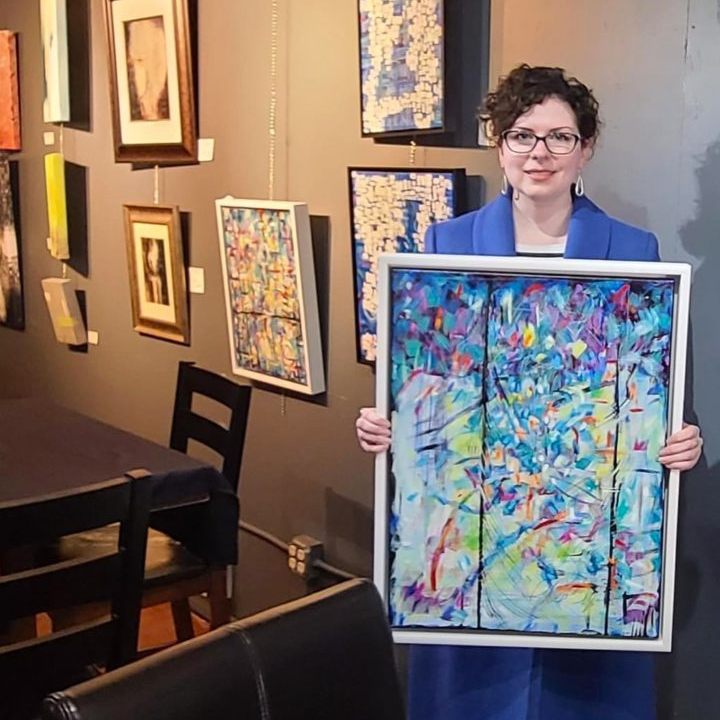 About Me
I'm an in-house UI/UX designer for a leading energy technology company and a multi-disciplinary artist based in the Greater Milwaukee Area.
I am the IT department's sole UI/UX designer and previously worked with teams from a separate design firm. I strongly believe in empathetic and inclusive design to ensure what is created works for people with all different abilities and backgrounds.
Stacie Estrada · Paula DeStefanis
I started my sole proprietorship, Megan McDonald Art & Design, in January 2012 after two years of freelancing. I have designed logos, brand identities, websites, signs, flyers, multimedia packaging, and textiles for local and international clients.
I have exhibited my work in Milwaukee, Chicago, Detroit, and India. My work has also been published in Sendpoints Books' Modern Patterns and Classical Patterns, Color Inspirations by Darius A. Monsef IV, and Collectively Bound: 2009/10 UWM Art Collectives by John Dorn of Collectively Bound.
Gallery Representation & Public Collections
Mar 2022 – Present
Art Lounge · Menomonee Falls, Wisconsin
Feb 2012 – Present
Nek Chand Rock Garden · Permanent Collection · Chandigarh, India
CV
Education
University of Wisconsin-Milwaukee · BFA
Major: Visual Art
Minor: Art History
Exhibitions
March 4 – April 30, 2022
Art in Action · Group Exhibition · Art Lounge · Menomonee Falls, WI
Aug 25, 2019
Art in the Park · Vendor · Kiwanis Park · Menomonee Falls, WI
May 4 – 28, 2019
Art in Action · Group Exhibition · Menomonee Falls Public Library · Menomonee Falls, WI
May 25, 2019
Memorial Fest · Vendor · Mill Pond Park Plaza · Menomonee Falls, WI
Oct 27, 2016
America SCORES Inspired Art Event · Group Exhibition and Auction · Site 1a (formerly Oak Lounge) · Milwaukee, WI
Oct 24, 2014
America SCORES Inspired Art Event · Group Exhibition and Auction · The Milwaukee Public Market · Milwaukee, WI
Nov 9, 2012
America SCORES Inspired Art Event · Group Exhibition and Auction · The Wherehouse · Milwaukee, WI
Jan 24 – Feb 4, 2012
Fall BFA Exhibition · Group Exhibition · Inova / Arts Center Gallery · Milwaukee, WI
Oct 28 – 29, 2011
City After Dark · Group Exhibiton · UWM Mitchell Hall · Milwaukee, WI
May 5 – 6, 2011
Foundry Design Exhibition · Group Exhibition · UWM Kenilworth East Gallery · Milwaukee, WI
Apr 24 – 25, 2010
Infrastructures and Territories · Group Exhibition · Version Festival · Chicago, IL
Apr 11 – 18, 2008
Foundations IX: Hybrid · Group Exhibition · Union Art Gallery · Milwaukee, WI
Professional Affiliations
Art Lounge · Gallery
Art Guild of Menomonee Falls · Member